Yorkshire Internet Award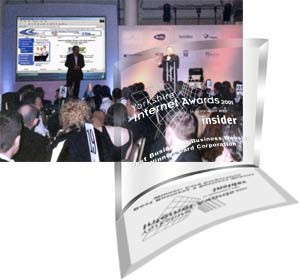 Yorkshire Internet Awards - 27th April 2001
"BEST BUSINESS 2 BUSINESS AWARD"
WINNER: Card Corporation
In a bid to reflect the fast pace of change within the region's digital economy, the Yorkshire Internet Awards 2001 have been developed to recognise the contribution of the many leading players within the internet industry.
While the 2000 Website Awards were open to organisations making use of the internet to gain competitive advantage via their websites, the 2001 Awards will focus on businesses and individuals developing and utilising a much broader range of internet technologies.
DTI research published in October reveals that 76 per cent of businesses in Yorkshire and the Humber are connected to the internet compared with 54 per cent last year. Commenting on these figures, e-commerce Minister Patricia Hewitt said: "I am hugely encouraged to see that more businesses in Yorkshire and the Humber are joining the information age. However, businesses must look to extend and expand the way in which they use e-commerce if they are to gain the true benefits and the UK is to become the leading environment in the world for doing business electronically."
It is within this climate of growth in the use of the internet throughout the region that nominations are opened this month for the Yorkshire Internet Awards for 2001.